Outreach Spotlight:
Photoville NYC


A Picture of America: Privilege, Race & The Era of Trump
Presented in partnership with with Leica
Featuring: Sheila Pree Bright, Danny Wilcox Frazier
Explore the lives of individuals and communities that are often unseen, through the perspective of renowned photographers Sheila Pree Bright and Danny Wilcox Frazier. Bright and Frazier create visual, contemporary stories about social, political and historical contexts not often seen in the visual communication of traditional media and fine art platforms about divided communities. Their work captures and presents aspects of culture, and sometimes counter-culture, that challenge what we see and how we see it.
Reclaiming Photography
Featuring: Laura Beltrán Villamizar, Shahidul Alam, Austin Merrill, Daniella Zalcman, Tara Pixley (Moderator), Brent Lewis
A panel discussion from the founding members of RECLAIM: an alliance of The Everyday Projects, Native Agency, Majority World, Women Photograph, Minority Report [renamed from Visioning Project], and Diversify Photo. RECLAIM is made up of six organizations who are committed to amplifying the voices of underrepresented photographers and decolonizing the photojournalism industry. They are working together to diversify the community of visual storytellers, making sure that the lenses through which everyone interpret our world are as diverse as the people and places they hope to document.
Committed: A Leica Conversation with Doug Menuez and Mark Mann on the Impact and Importance of Long-Term Projects
Featuring: Doug Menuez, Mark Mann
Join Doug Menuez and Mark Mann as they dive into an in-depth discussion on how to overcome challenges and fears that arise in projects.
Climates in Conflict
Presented in partnership with The Ground Truth Project
Featuring: Laura Heaton, Nichole Sobecki and Charlie Sennott
Global warming no longer feels like a threat just for future generations. Extreme weather and rising temperatures are destabilizing communities across the globe and pushing people from their homes. This conversation featuring Photojournalist Nichole Sobecki, Journalist Laura Heaton and award winning foreign correspondent and The ground Truth Project Founder and Executive producer, Charles Sennott, will explore how the major challenges of our time — migration, extremism, conflict over dwindling natural resources — have roots in climate change. From Afghanistan to Colombia and Somalia, environmental changes have dire implications for security and are harbingers of global risks to come. What's being done to address these concerns? What more can be done? How can visual storytelling help?
PDN's 30: Advice for Emerging Photographers from Emerging Photographers
Presented in partnership with Photo District News
Featuring Holly Stuart Hughes (Moderator), Sasha Arutyunova, Benedict Evans, Jake Naughton, Frances F. Denny
Photographers chosen for the 2017 PDN's 30: New and Emerging Photographers shared useful lessons they learned as they launched their careers, explain how they got their work seen and noticed, and offer advice on finding your style and building support for personal projects with PDN's Editorial Director, Holly Hughes.
A Conversation on Widowhood
Presented in partnership with Pulitzer Center and featuring Amy Toensing & Whitney Johnson
In many regions of the world widowhood marks a "social death" for a woman – casting her and her children out to the margins of society.
We are proud to partner with the remarkable people at Photoville to bring their important Talks to the public for the first time in their 6 year history!
PHOTOVILLE TALKS

Produced by United Photo Industries at Photoville 2017
Presented in partnership with PhotoWings

Hosted by St. Ann's Warehouse
with additional support by Two Trees Management
(Photoville Talks Producer - Amy Wolff)

As a special holiday treat, we would like to share with you two of these thought-provoking, brilliant conversations, and many more, will be released gradually over the coming months, starting in the new year. Click here to visit Photoville and learn more about them and our collaboration, and here to learn more about our Photoville Talks.
Guest presentations during Photoville 2017:
Global Nomads Group
By leveraging technology, Global Nomads Group fosters dialogue and understanding between middle school and high school students who would not otherwise meet. Sarah Salash, Shivang Patel, Abigail Finck and Chris Plutte from the GNG team will talk about their international initiatives and let you try out the VR headsets they use in the classroom
Facing Change: Documenting America (FCDA)
Facing Change: Documenting Detroit is a community photojournalism initiative creating a documentary record of Detroit by Detroit-area photographers. Alan Chin will introduce you to some of the photographers of Documenting Detroit
Eddie Adams Workshop
The Eddie Adams Workshop is an intense four-day gathering of the top photography professional, along with 100 carefully-selected students. The photography workshop is tuition free, and the students are chosen based on the merit of their portfolios. Meet Alyssa Adams and Mirjam Evers from EAW and learn more about the workshop, now in its 30th year. Get your copy of Eddie Adams: Bigger Than the Frame signed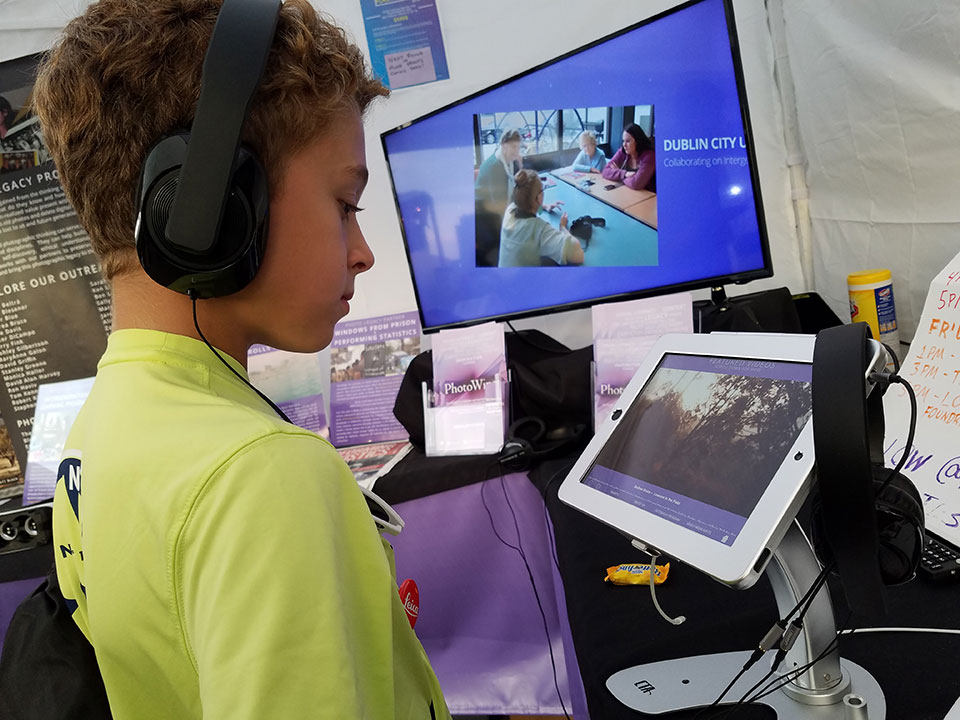 Alexia Foundation
The Alexia Foundation has been helping photojournalists give voice to those who go unheard, foster understanding and expose social injustice for 25 years. Meet Sarah Blesener, the 2017 Alexia professional recipient and Monica Jorge, the 2017 Alexia student recipient who will talk about how they got the grants and what it has meant for their work.
The Everyday Projects
The Everyday Projects uses photography to challenge stereotypes that distort our understanding of the world. They are creating new generations of storytellers and audiences that recognize the need for multiple perspectives in portraying the cultures that define us. Meet Austin Merrill to learn about the evolution of The Everyday Projects and get your copy of Everyday Africa signed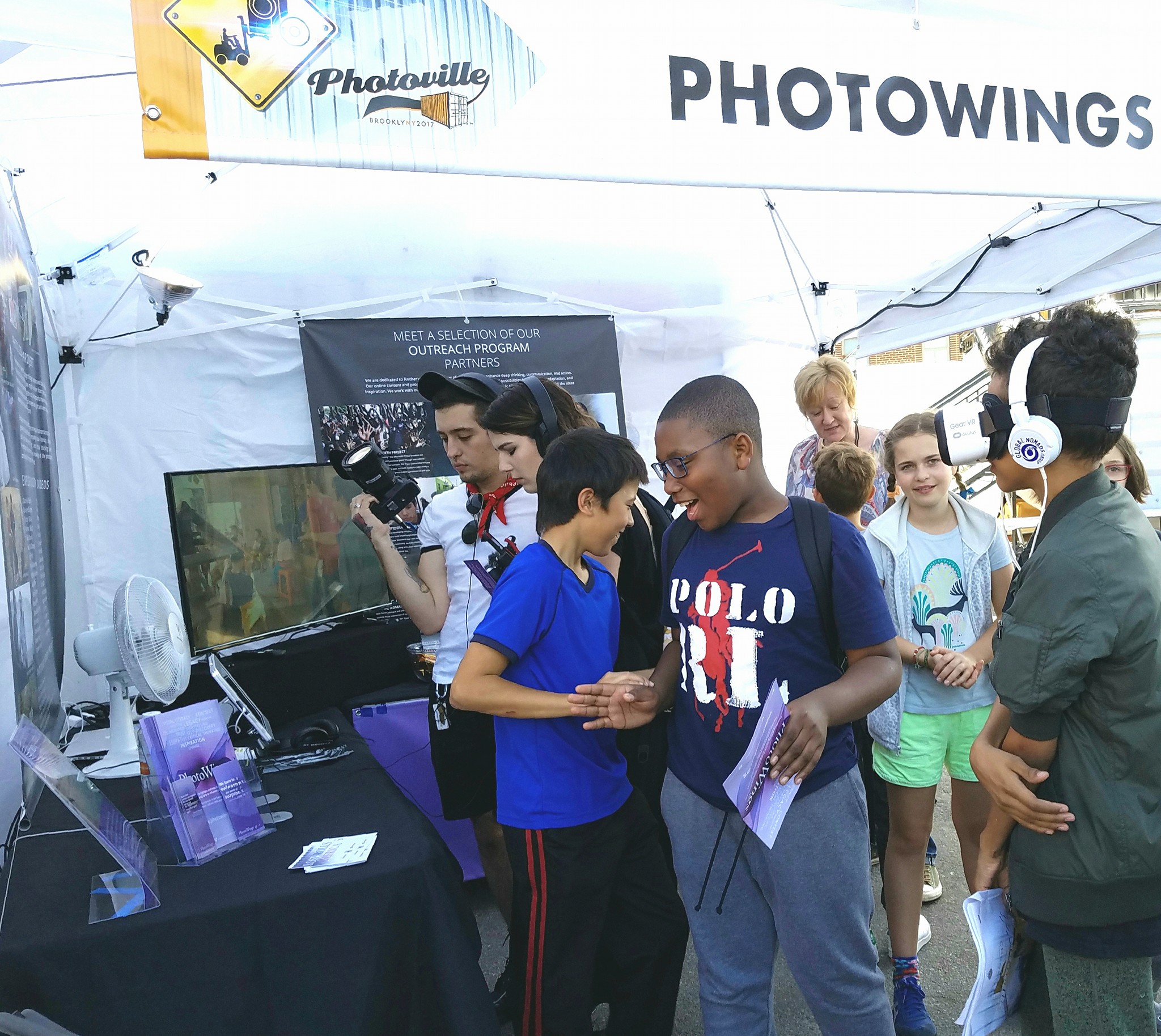 On Photoville Education Day, students visiting our tent to see our videos and demo virtual reality content from our Outreach Partners Global Nomads Group
Photo courtesy of ©Suzie Katz
Lost Rolls America / Foundry Photojournalism Workshop
Foundry Photojournalism Workshops bring some of the world's most respected photojournalists to different developing countries to train local photographers in visual storytelling, fostering their ability and agency to to document their own communities. Meet Ron Haviv who will talk about 10 years with Foundry Photojournalism Workshops and his new project Lost Rolls America. Lost Rolls America celebrates the value and role photographs play in shaping the construction of memory. Get your copy of The Lost Rolls signed!
The Aftermath Project
The Aftermath Project is committed to telling the other half of the story of conflict by broadening the public's understanding of the true cost of war-and the real price of peace. Sara Terry will talk about the photographers and the projects she's worked with in The Aftermath Project, now in its 10th year
Blue Earth Alliance
Blue Earth Alliance supports visual storytelling on critical environmental and social issues through direct assistance to photographers and a collaborative community of professionals. Learn from Lauren Owens Lambert about the alliance and the ways that their photographs and films have inspired change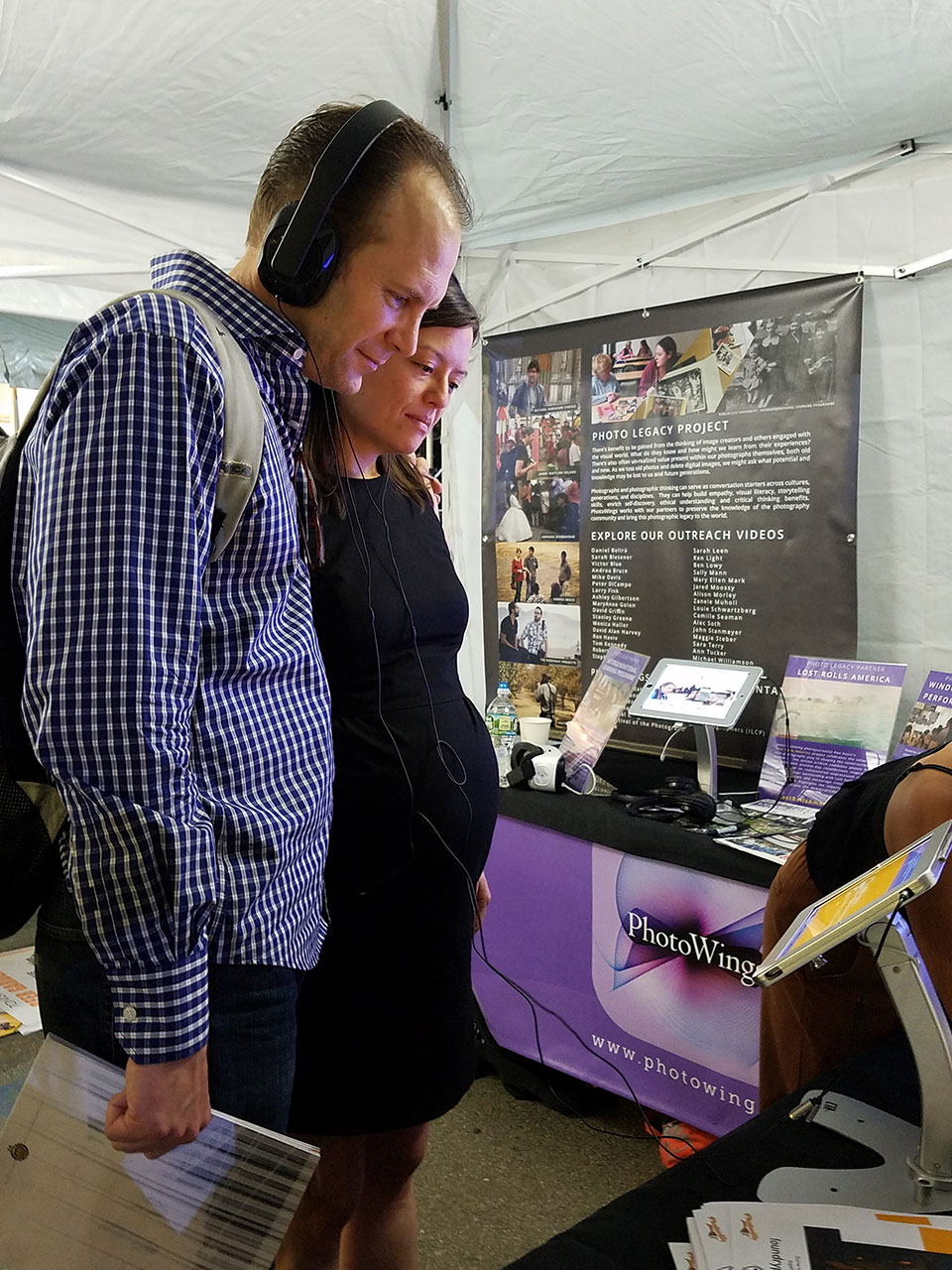 Couple watching our sizzler video to learn about our work
Photo courtesy of ©Suzie Katz