Learn more: US Library of Congress
A Window to History: The Library of Congress Photo Collections

Looking to find out more about the Library of Congress' vast photo collections, and to gather thoughts on the nature of photography, we spoke to Photo Curator Beverly Brannan and Director for Collections and Services, Jeremy Adamson.
PhotoWings sat down with Beverly Brannan and Jeremy Adamsonin their Washington offices to get a sense of how the Library of Congress' collection illustrates the nation's (and to some extent, the world's) history from so many points of view. We asked Beverly Brannan what would surprise people about the Library of Congress?
"What surprises people most about us is that we actually exist!" said Brannan, "Many people think we are the National Archives." It's true that the distinctions between the repositories of America's collective history are not always obvious to the uninitiated. The National Archives document national events and collect all documents produced by the government, while the Smithsonian collects primarily 3 dimensional objects produced by private citizens. The Library of Congress is the research arm of Congress, and the repository for 2 dimensional objects produced by average citizens documenting their own experiences. The Library also acquires international collections. Not surprisingly, the LoC has accumulated one of the largest photo collections in the world. Given an archive of over 13 million photographs, what do people want to see most?
Dorothea Lange and the Migrant Mother
At the top of the list, Brannan cites the now famous images depicting the consequences of the 1930s Dust Bowl. Hired by the Farm Security Administration (or FSA), photographers such as Walker Evans, Dorothea Lange, Arthur Rothstein and Gordon Parks documented the Depression-era migration from the draught stricken mid-west to California.
These images, particularly Lange's famous Migrant Mother have become iconic representations of the Depression era. But more than that, as Jeremy Adamson notes, they tap into our visceral connection with photography:
Photography speaks to how we read our environment. When we are born we are already stamped with need to identify emotion. That's why Dorothea Lange's Migrant Mother image is so strong, we get it, it's universal.
The Library created a page dedicated to this famous American portrait. There, Lange's memories of the encounter with this mother and her children in Nipomo, California, are framed by the whole series of shots that came before the one we recognize. This is a rare and fascinating perspective on the interaction between a photographer and her subject. It also gives us a view of Lange's creative process, as this incredible quote from her, reproduced by the LoC from Popular Photography (Feb. 1960), tells us:
I saw and approached the hungry and desperate mother, as if drawn by a magnet. I do not remember how I explained my presence or my camera to her, but I do remember she asked me no questions. I made five exposures, working closer and closer from the same direction. I did not ask her name or her history. She told me her age, that she was thirty-two. She said that they had been living on frozen vegetables from the surrounding fields, and birds that the children killed. She had just sold the tires from her car to buy food. There she sat in that lean- to tent with her children huddled around her, and seemed to know that my pictures might help her, and so she helped me. There was a sort of equality about it.
There are many more anecdotes about the FSA project. Brannan says that out in the field, FSA photographers were given the task of writing about their subjects and experiences after each day of shooting, in order to provide captions. Those that did not write were not sent out again. Surprisingly, photographers didn't develop their own photographs (this was done by FSA employees) but they were known to give director Roy Stryker their opinions on which pictures they thought were the most effective. Stryker and photographer Walker Evans were said to have had many disagreements about how the FSA photos were used.
We read pictures more intuitively than words. They "short circuit" reason, giving direct access to the brain. They burst the bonds of expectation, they are the surprise element. - Jeremy Adamson
Smithsonian's Archives of American Art Oral History
The Library goes out of its way to make available as much collection information as possible. Not only do they provide historical essays and time lines, but also bibliographies, links to related material in other LoC collections, as well as links to other institutions. The Farm Security Administration collection page includes a link to the Smithsonian's Archives of American Art Oral History collection, where one can find full length interviews with Evans, Lange, Rothstein, Parks and FSA director Roy E. Stryker, all recounting their experiences and work with the FSA.
The FSA photographs were used, in part, to raise public awareness of the living conditions in the Depression-era Southern states. Adamson believes that the reason these images were so powerful then, as they are now, has to do with the way we understand photos:
FSA photographer Gordon Parks played with the elements of familiarity and surprise when he photographed Mrs Ella Watson, a "charwoman" in a Washington office. Placing her in front of an American flag, he asked her to pose in the style of painter Grant Wood's famous "American Gothic." The resulting image speaks volumes about class, race and identity. Surprises like this come up often when you browse through the LoC's online collections.
Civil War Photography
Among the most visited images in the Library's archives are a group of Civil War photographs that feature African Americans. Captured on film actively participating in the conflict or suffering through the aftermath, these pictures show us fascinating glimpses the African American experience of the Civil War, a story that has yet to be fully told.
The Library has posted a selection of their Civil War photographs, and tell us a great deal about this period in American history. From mysterious shots of boy soldiers to the unfamiliar shape of the first iron battleships, there are revelations that only a photographic document can provide. Military fashions, antebellum architecture, fortifications and battlefields are all revealed for historians, designers, architects, military buffs and the curious observer. This was one of the first conflicts to be documented by photographers; the graphic scenes of battlefield dead and ruined cities as well as images of the prosaic moments of everyday life between battles are the beginnings of photojournalism in America.
A comment Jeremy Adamson made speaks to why these pictures still resonate with us:
Photography acts as the eyes, as the beholder of the viewer, making the experience real for them.
Votes For Women Collection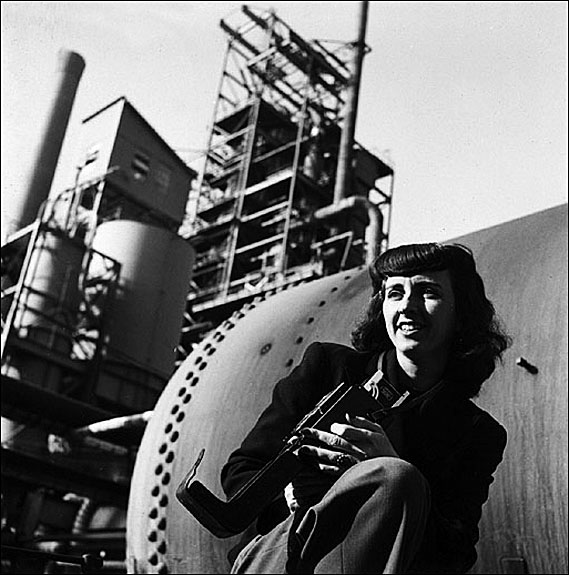 Other battles from the past have also left us with spectacular and surprising images. The "Votes for Women" collection shows us portraits of 19th century women from all walks of life, battling for the right to vote. There are images of lone women speaking out in crowds of men. There are also disturbing pictures of the movements leaders behind bars – jailed for speaking out.
Why is this collection so fascinating? It's partly because of its exotic subjects, and partly because no matter how foreign the subject matter, photography reveals what is universal to us in a way that no other medium can.
Matson Negatives Collection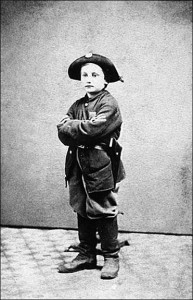 Another significant archive identified by Brannan is the Matson Negatives Collection, which assembles images from the American Colony a group of Swedish and American Christians who immigrated to Jerusalem in the 19th century. The group funded their good works by photographing images the Holy Land, Egypt and Africa for the tourist trade. This compilation gives us a rare view of life in Jerusalem and the Middle-East in the 19th and early 20th centuries.
A photograph provides a different order of knowledge and experience than reading, where we're guided along by the authors. When reading we are rationally lead by the writers argument. Photography is a gestalt experience, we can slice through and get to the heart. - Jeremy Adamson
Prokudin-Gorskii Photographic Collection
When asked what she considered to be some of the Library's more important holdings, Brannan pointed to the Prokudin-Gorskii Photographic Collection a major collection of photographic negatives produced by Russian photographer Sergei Mikhailovich Prokudin-Gorskii. Prokudin-Gorskii was a pioneer of color photography who used a camera of his own design to carry out an ambitious photographic survey of the Russian empire of the early 20th century. His images, evidence of the incredible cultural and territorial diversity of this region, were captured on the eve of the Russian revolution, and have recently been digitally colorized by the LoC. The realistic color of these photos gives a strangely modern look to photographs that document a world that has all but disappeared.
It's an interactive and more personal experience. Viewers bring their experience - they engage with the composition in a photograph. We are able to explore, rather than "read" it. We are guided by our own eyes. It's all there. Photography acts as the eyes as the beholder of the viewer, making experience real for them. - Sergei Mikhailovich
George Grantham Bain Collection
For photos documenting American life, Brannan cites the importance of the George Grantham Bain Collection, the archive of one of the first photo news services in the U.S. The collection is made up of glass plate negatives dating from 1907 to the 1930s. Negatives from the agency's early years (1890s to 1907), burned along with company headquarters in 1907. Only the work of those savvy photographers who kept their negatives in order to maintain control over their copyright was spared. Interestingly, the collection features many news photos describing the lives and pursuits of women, of all classes and nationalities, in the first decades of the 20th century. Many of these pictures, even seemingly ordinary scenes of everyday life, speak to us in a way that other historical documents cannot.
This emphasis on women came, in part, from the fact that the Bain agency hired some of the first professional women photographers in the U.S. Bain photographer Frances Benjamin Johnston, known for her intrepid assignments as a photojournalist, went on to represent women photographers at the 1900 Paris Exhibition. Another Bain Agency alumnus who went on to a brilliant career was Toni Frissell. Following in Johnson's footsteps, Frissell began her career as a photojournalist, although she is most recognized for her work as a fashion photographer. Her photos for Vogue and Harper's Bazaar, as well as her portraits of famous people, are know for their informal and "natural" style.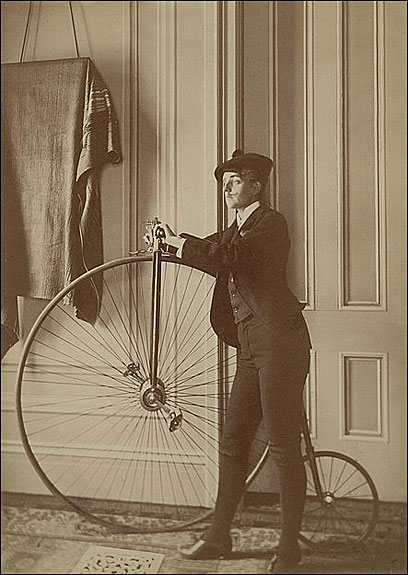 Orville and Wilbur Wright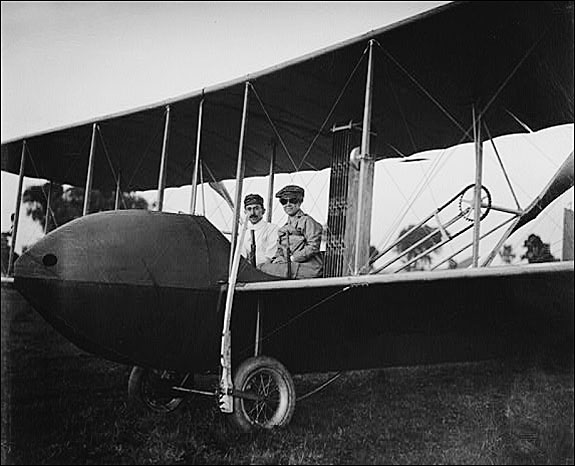 For those who take the time to explore the site, there are revelations that give depth and nuance to our understanding of people, places and events from the past. Take for example photographs made by the Wright Brothers of their experiments with flight.
Orville and Wilbur Wright used photography to document the test flights of their gliders and flying machines. Their purpose in photographing was scientific, but these images captured for us not only the unforgettable moment of "First Flight" at Kitty Hawk in 1903, but also the failed experiments before and the soaring flying machines of later years. What is truly amazing about the Wright archive is that it shows us the whole context of the invention of flight; the Wrights also photographed each other, their bicycle shop, their homes and their extended family. These pictures give us a rare, intimate and more complete understanding of the inventor's lives and pursuits.
Looking at the Wright Brothers collection online, you will notice that some of the some of the negatives are damaged. In fact, many of the glass plate negatives were underwater for several days during the 1913 Dayton, Ohio flood. This brings up another important aspect of the Library's mission, which is to restore and preserve the sometimes fragile photographic archives in their collection.
Library of Congress Teaching Resources
An audience that the Library actively seeks to encourage is teachers and students. The collections offer amazing primary source documents about many areas of American and international history, politics, sociology and anthropology, to name a few. The LoC has created a center for teachers known as the Learning Page, which offers lesson plans, essays, time lines, activities and collection-based inquiries. Students are encouraged to investigate the collections and think critically about what historic photographs and other documents tell them.
The Learning Page's "Collection Connections" link students and teachers to some of the LoC's most remarkable archives. These collections have been interpreted to help students find out about areas of history that don't often make it into the standard curriculum. "Connections" is designed to develop critical thinking in students, but anyone can (and should!) benefit from these surprising and inventive pages. For instance, who knew you could learn so much from a baseball card?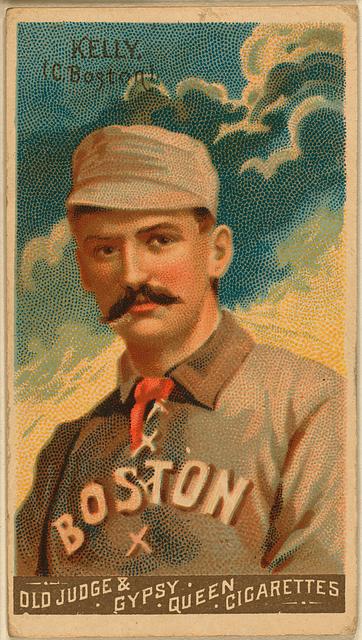 Here you can find out about how baseball became the "national pass-time," how segregated leagues were formed in major North-American cities and about the tobacco industry and how companies came to publish baseball photos on the cardboard that was used to stiffen cigarette packs. These cards trace the history of early sports photography, from the classic portrait to the first action shots. The above image is a classic portrait of Mike "King" Kelly, one of the premier ball players of his day. His legendary base running helped the Chicago Nationals to win five pennants and inspired fans to chant "Slide, Kelly, Slide!" After capturing the batting crown in 1886, the colorful Kelly was sold to the Boston Beaneaters for a then-record $10,000.
Offering images from the surprising to the sublime, the Library of Congress, with its massive online gallery, is an un-paralleled resource for education and, maybe more importantly, for the real "shock and awe" factor of photography.Among those looking at the prints and photographs pages are researchers looking for original images to illustrate writing. Others are photo researchers, interested in the pictures as evidence of history and the history of photography itself. There are also the photo-lovers that make the pilgrimage to the fascinating Print Study Room; the people who look on photographs as art objects. There are the online "sight-seers," who are seeking pictures that relate to themselves (such as historic scenes of their home town), and of course, there are those who just love to look at pictures. As Jeremy Adamson commented.
Pictures have power in today's society. People are more visually literate. Pictures can be read right away and then there's the "rush of the thing."

-Jeremy Adamson
Some of our favorites from the Library of Congress' collections:
• Early baseball cards published from 1887 to 1914, they tell us a lot about 19th century photography, printing, marketing and the timelessness of baseball uniforms.
• Women of Protest, a historical survey of the National Women's Party and the women who fought for and won the right to vote. Photographs include shocking portraits of leaders behind bars jailed for speaking out!
• The Farm Security Administration's collection of ground-breaking depression-era documentary photos (including those of Walker Evans, Dorothea Lange and Gordon Parks).