James Nachtwey – Profile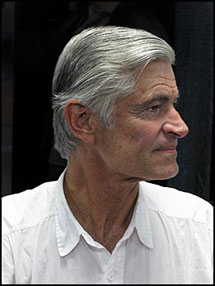 About James Nachtwey
XDR-TB/TED related links
XDRTB.org
Why Nachtwey chose to cover XDR-TB
Flickr photos of TED Rollout
Flickr photos - XDRTB.org
TED webpage for Nachtwey
Photojournalist James Nachtwey is considered to be one of the greatest documentary photographers of his generation. He was the subject of the 2002 Oscar Nominated Documentary 'The War Photographer' by Swiss filmaker Christian Frei. James has devoted himself to documenting wars, conflicts and critical social issues and has done so in more than 30 countries.
Nachtwey has been a contract photographer with Time Magazine since 1984. In 2001, he became one of the founding members of the photo agency, VII. He was associated with Black Star from 1980-1985 and was a member of Magnum from 1986 until 2001.
Nachtwey has had solo exhibitions at the International Center of Photography in New York, the Bibliotheque Nationale de France in Paris, the Palazzo Esposizione in Rome, the Museum of Photographic Arts in San Diego, Culturgest in Lisbon, El Circulo de Bellas Artes in Madrid, Fahey/Klein Gallery in Los Angeles, the Massachusetts College of Art in Boston, the Canon Gallery and the Nieuwe Kerk in Amsterdam, the Carolinum in Prague, and the Hasselblad Center in Sweden, among others.
He has received numerous honors such as the Robert Capa Gold Medal (five times), the World Press Photo Award (twice), Magazine Photographer of the Year (eight times), the International Center of Photography Infinity Award (three times), the Leica Award (twice), the Bayeaux Award for War Correspondents (twice), the Alfred Eisenstaedt Award, Commonwealth Award, Martin Luther King Award, Dr. Jean Mayer Global Citizenship Award, Henry Luce Award, the Canon Photo essayist Award, the Leipzig Award for Freedom of the Press, the Daniel Pearl Award, The Dan David Prize, and the W. Eugene Smith Memorial Grant in Humanistic Photography. He is a fellow of the Royal Photographic Society and has an Honorary Doctorate of Fine Arts from the Massachusetts College of Arts.