A. D. Coleman – Profile
"[A.D. Coleman] is a very intelligent writer, and he photographed some himself as well, and so he could understand what it was to get a good picture. He would talk to the photographers, there would be stories, sometimes about how the pictures got made, the attitude. He approached things understanding not just the thing in front of the camera—the subject—but what attitude the people brought to what they were photographing, and that's a big step, because that puts it on a different plane than most people who say, 'I'd like to get a good picture of this rose garden because I just love it.'"

—David Travis, photo curator, The Art Institute of Chicago
At a time when photography criticism was essentially non-existent, A.D. Coleman blazed the trail by sharing his unique and sometimes controversial insights in the form of 2,500 essays and several books on photography.
Named among the 100 Most Important People in Photography by American Photo, his influence on the field has been significant. "Coleman has breathed fresh air into the otherwise moribund corpse of photography criticism and almost single-handedly kept its spirits alive," says noted photographer, author, and educator Bill Jay.
A pioneer of modern photo criticism whose award-winning writing is accessible to the layperson, A.D. Coleman was the first photo critic for The Village Voice (1968 to 1973), The New York Times (1970 to 1974), and the New York Observer (1988 to 1997). He has also been a columnist for numerous photo magazines including Camera Arts, Camera 35, Camera & Darkroom, and Photo Metro in the United States, Ag and The British Journal of Photography in England, Fotografi in Sweden, and Juliet Art Magazine in Italy. He has appeared on NPR, PBS, CBS, and the BBC.
Today, he continues to write for various publications and also runs educational Web sites including The Nearby Café, the Photography Criticism CyberArchive, and The New Eyes Project.
A.D. Coleman on the 'Net
A.D. Coleman, ever the pioneer, became the first photography critic to set up shop in cyberspace when he launched his online newsletter, C: the Speed of Light, in 1995. The newsletter—read by photography teachers, students, and others interested in the craft—features new essays and lectures by Coleman in each issue.
C: the Speed of Light eventually broadened to become The Nearby Café, a dynamic Web site where visitors can peruse work by various photographers, artists, and writers. The Nearby Café also features a History of Photography Calendar, a searchable compilation of important dates in photography history.
The "New Eyes" Project: Introducing Kids to the Wonders of Photography
An ardent supporter of photography education, A.D. Coleman recently established The "New Eyes" Project: Teaching Photography to the Young, an online resource for educators, students, and others involved in K–12 photography. The Web site will include readings, lesson plans, a forum, and other resources, as well as networking and fundraising opportunities.
For Your Bookshelf
If you'd like to read some of A.D. Coleman's reviews and commentaries from years past, you're in luck. He has released several compilations of his work in book form.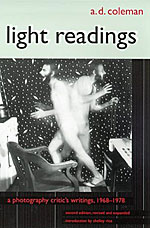 Light Readings: A Photography Critic's Writings, 1968–1978 (University of New Mexico Press) is a collection of Coleman's early writings, including his very first essay for the Village Voice and his controversial pieces on John Szarkowski and Susan Sontag.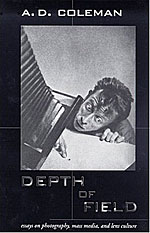 In Depth of Field: Essays on Photographs, Lens Culture and Mass Media (University of New Mexico Press), a collection of his writings from 1978 to 1996, Coleman discusses various issues such as where photography came from, the function of criticism, and the ethics of street photography
Critical Focus: Photography in the International Image Community (Nazraeli Press) includes Coleman's coverage of various photographers—from Barbara Kruger to Robert Mapplethorpe to Sally Mann —from 1989 to 1993. It also includes Coleman's take on various issues in photography, from censorship to public funding for the arts.