Outreach Spotlight: CatchLight
Outreach Spotlight: CatchLight
Explore PhotoWings + CatchLight Partnerships:
CatchLight Local Education
Artists Against An Infodemic
CatchLight Visual Storytelling Summit 2019
Everyday Bay Area
Upcoming events:
2022 Visual Storytelling Summit
Tuesday, April 19 & Wednesday, April 20, 2022
The Institute of Contemporary Art San Francisco (ICA SF) & Online: 12-4pm PST
Past events:
On view: September 2, 2021- November 15, 2021
115 S Pulaski Rd, Chicago IL
On view: October 4, 2021- April 15, 2022
San Francisco City Hall, Lower Level and North Light Court
1 Dr Carlton B Goodlett Place, San Francisco, CA
CatchLight believes in the power of visual storytelling to foster a more nuanced and empathetic understanding of the world. Serving a transformational force, it urgently brings resources and organizations together to support leaders in a thriving visual ecosystem. Their goal is to discover, develop and amplify visual storytellers.
PhotoWings' dedication to utilizing the power of photography to further deep thinking, communication and action is demonstrated in our partnerships with CatchLight. The photographers of @everydaybayarea are helping San Francisco Bay Area residents see and understand each other across generations and cultures. The power of visual storytelling to inspire, spark dialogue and ignite change was celebrated at the 2019 Visual Storytelling Summit. A roadmap for clear health messaging in a world of misinformation incorporates photography as a central element and open source tools for educators will help revive visual storytelling at the local level. Along the way, PhotoWings has documented the work and lives of leading voices in photography and visual storytelling so their stories can be freely shared.
Recent Projects:
CatchLight Local Education
CatchLight Local is a visual storytelling initiative that seeks to revive visual journalism at the local level by connecting visual journalists and resources directly with local newsrooms and community members including engaging the next generation of media makers and consumers. In 2020 PhotoWings partnered with CatchLight and Dysturb to co-create open source curricular tools on local visual journalism and media literacy for educators. This year we will continue to partner with CatchLight on expanding distribution of these curricular tools as well as launch a youth workshop in Salinas, California.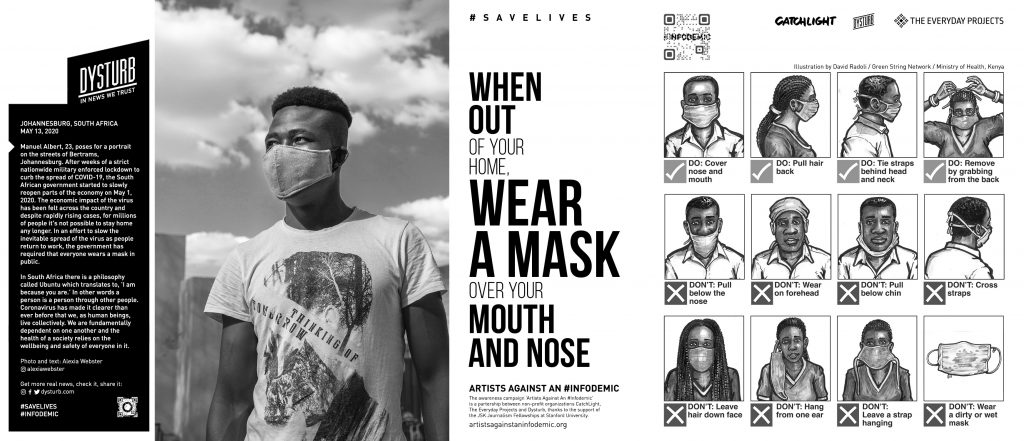 Artists Against an Infodemic
In 2020, Photowings partnered with Dysturb, CatchLight and The Everyday Projects to share the outcomes of the public health information campaign. The project collaborated with artists around the world in a campaign to raise awareness and fight public health misinformation. We used social media and public art activations like paste-ups, posters, and murals to encourage people to follow WHO guidelines and to connect health messages to daily life. Find the full toolkit here
2019 CatchLight Visual Storytelling Summit
The CatchLight 2019 Visual Storytelling Summit brought the community together for an immersive day of conversations, portfolio reviews and workshops. PhotoWings partnered with CatchLight to document event presentations by Ethiopian photographer and contemporary artist Aida Muluneh, National Geographic photographer Andrea Bruce, award-winning filmmaker Carlos Javier Ortiz and keynote speaker, Bangldeshi photographer and educator, Shahidul Alam. We also interviewed Shahidul Alam, Aida Muluneh and Tasneem Alsultan.
Interviews with Catchlight Fellows Andrea Bruce, Brian Frank, Sarah Blesener, and Tomas van Houtryve, are also available in the PhotoWings Video Archives.
Past Projects:
Everyday Bay Area
Everyday Bay Area is a collective of photographers originally organized by CatchLight to capture the diversity and stories of everyday lives in the San Francisco Bay Area. #everydaybayarea
PhotoWings partnered with CatchLight on the launch of Everyday Bay Area (EDBA) and its Instagram feed @everydaybayarea on the theme of Picturing the New California Dream.
We documented presentations and interviewed
The Everyday Projects Co-President, Austin Merrill
EDBA contributing photographers:
Pendarvis Harshaw, Brenton Gieser, Rasta Dave, Mark Murrmann, Felix Uribe